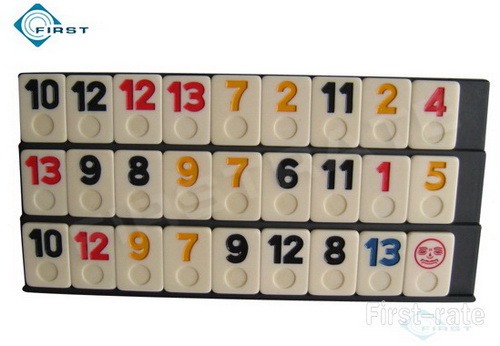 At 2pm on Friday afternoons, racks are placed on tables and numbers picked by the group that meets weekly for a friendly game of rummy at Evington Park House. Around twelve people currently attend the club and spend an hour and a half engrossed in play.
Rummi is a card game involving 2, 3 or 4 players that can also be played using tiles placed on stands. The aim of the game is to get rid of all the tiles, achieved by placing consecutive numbers of the same colour on the table, or one number in different colours. The game begins when a player is able to equal a minimum of 30 with 3 tiles.
Treasurer Ralph Tracy, who was introduced to the game by a relative in 1975, first started the club. The initial meeting place had been the Pavilion at the Bowls Club in the park, afterwards the group had moved to Evington Park House.
Ralph and his wife June arrange and keep records of all that have attended.
Basil Riszko has been coming along for over ten years. Despite trouble with his eyesight Basil enjoys his weekly club.
Most of the members live within walking distance of Evington Park House. Eileen Rosseav travels from Thurnby every week.
Brenda Shead described the activity as one that "keeps the brain working". Doreen Barratt had played with her parents as a child, saw Rummy as a "good, involved game which keeps the mind active" and continued to explain it was "a nice social event which we so desperately need in Evington".
Participants share friendly banter and laughter, enjoying the company of friends.
The group meets all year round, and the cost is £1 each time. New members are welcome.
FB